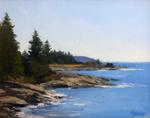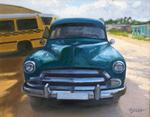 View more images from this exhibit
HENRY ISAACS: HENRY PAINTS HOME
BOOTHBAY HARBOR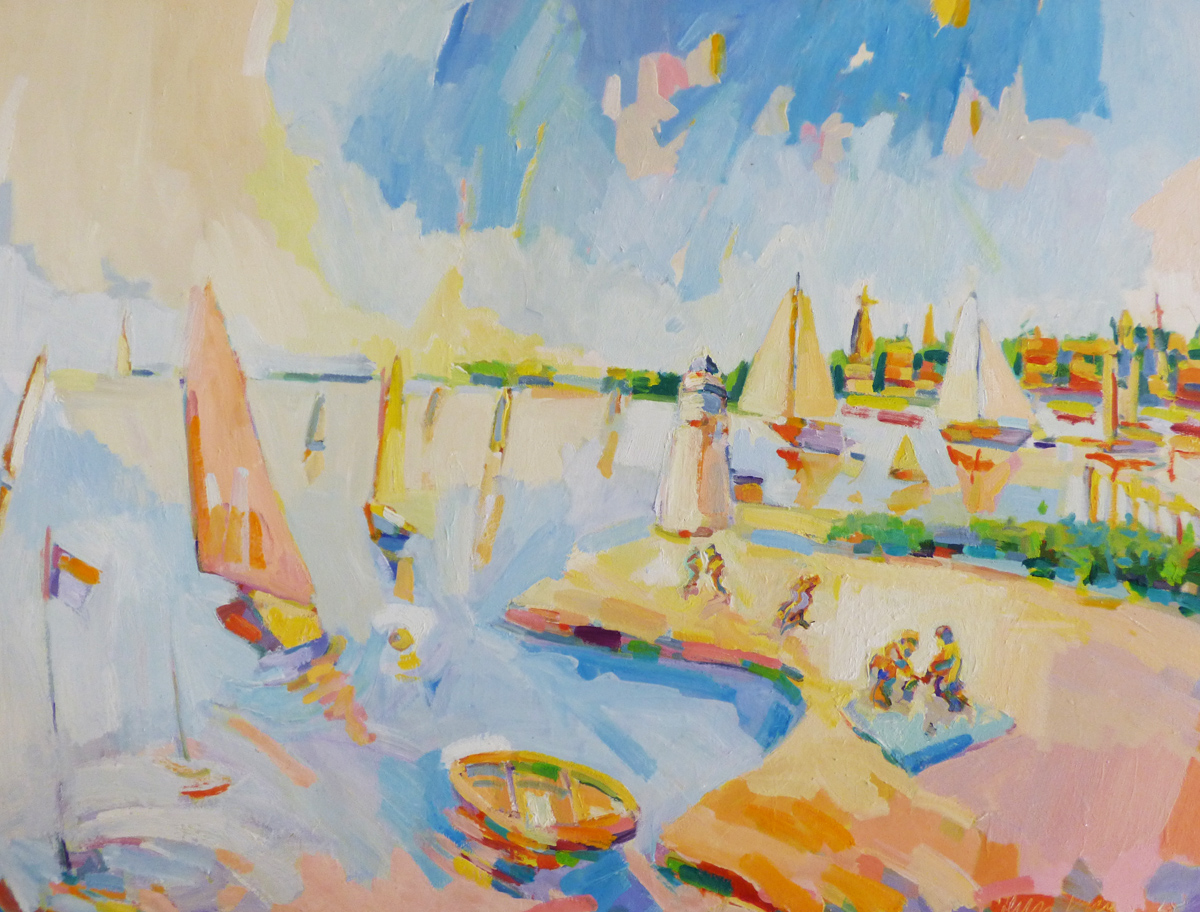 Artist Henry Isaacs has long divided his time between homes on a downeast Maine island and in rural Vermont, with frequent stops in between to visit his gallery, Gleason Fine Art, in Boothbay Harbor. Last summer, Isaacs, who loves doing commissions, accepted a commission to paint Boothbay Harbor from the perspective in front of the Boothbay Harbor Yacht Club in West Boothbay Harbor.
This was Isaacs' first time visiting West Boothbay Harbor, and he was blown away by the sights that day--dozens of tiny Opti sailboats racing across the harbor, and dozens more boats of all sizes and makes entering and departing the busy yacht field in front of the Yacht Club. All this was posed against a bluebird-blue sky dotted with puffy, white clouds. It was jaw-droppingly beautiful.
Isaacs finished his preparatory oil sketches, which he calls "travel notes," on the spot. Then back in his studio, he began the series of ever-larger oils he makes as step two of a commission. But Boothbay Harbor was always in his thoughts, so much so that he has been back again and again to make more paintings. In "Henry Paints Home," his beloved Opti sailboats feature in a series of paintings, including two canvases that are 40 by 60 inches.
For the uninitiated, Opti sailboats are what our youngsters learn to sail on. Given the diminutive size of the sailboats and the age of their "crews," watching Opti's race is an absolute delight. A group of the Opti's will dart forward at great speed, then turn on a dime, sometimes nearly tipping over, sometimes nearly running into each other, and often dipping a sail in the water. The kids are shrieking with joy, the grown-ups in the nearby safety boats are gasping, and everyone is having the time of their lives.
Isaacs' Boothbay Harbor Opti series captures all of this in paint, his exuberant pallette of brilliant blues, greens, yellows, and pinks perfectly capturing the joy and excitement of the moment. If for some reason, you don't care for sailboats, "Henry Paints Home" also includes many beautiful landscapes done on Boothbay's Land Trust properties as well as several stunning pastoral paintings of rural Vermont.
"Henry Isaacs: Henry Paints Home" is open now and runs through August 4. At this time, no reception is planned, but Gleason Fine Art is most definitely open. For now, our hours are Tuesday through Saturday, 10 am to 5 pm; Sunday, noon to 4 pm; and any time by appointment. A private showing may be arranged through the gallery. Gleason Fine Art is located at 31 Townsend Avenue in the center of Boothbay Harbor. Contact the gallery at 207-633-6849 or info@gleasonfineart.com. View all of Henry Isaacs' paintings on the gallery website: gleasonfineart.com.
KEVIN BEERS: POINTS OF LIGHT
BOOTHBAY HARBOR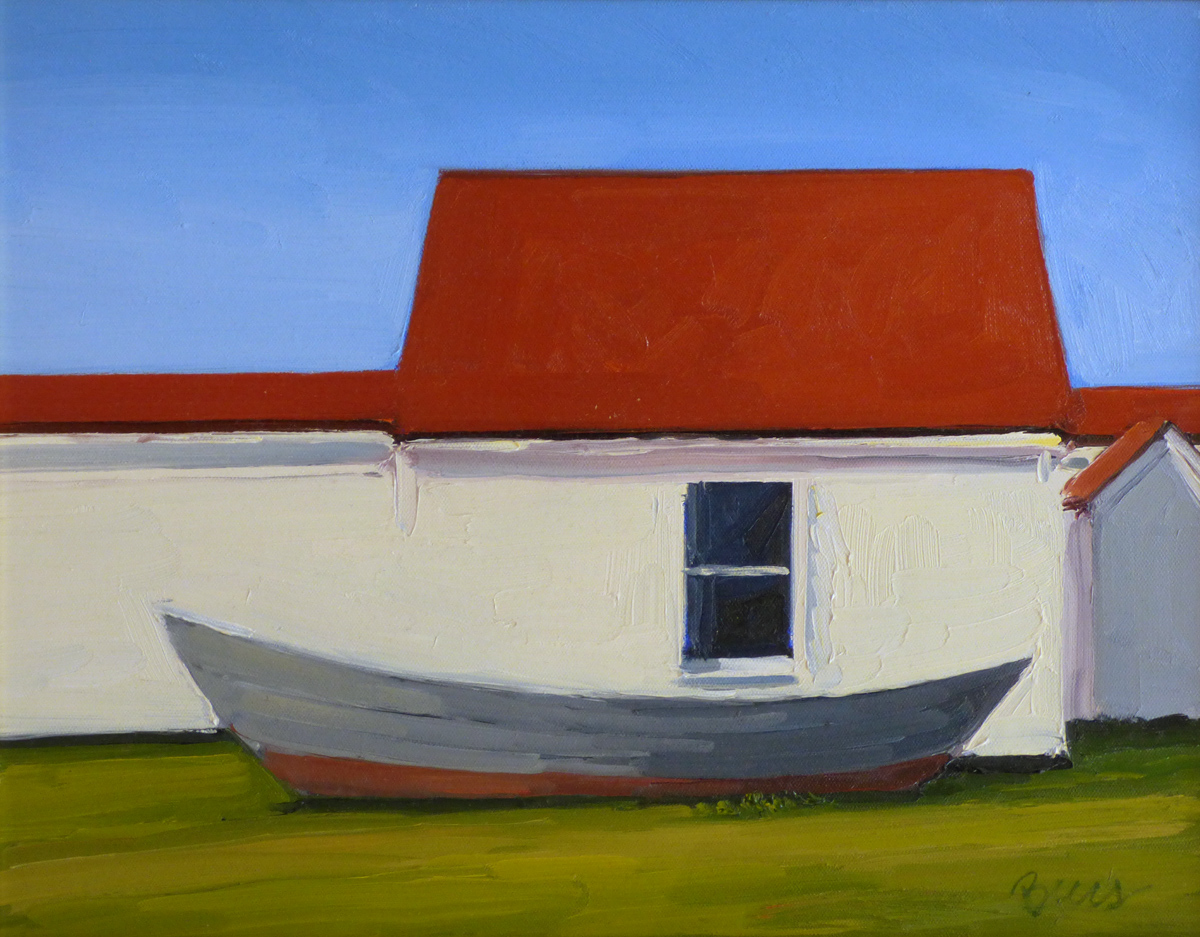 Beginning Thursday, June 25, and running through Tuesday, July 21, "Kevin Beers: Points of Light," new paintings of midcoast Maine, Cuba, and Beers' signature portraits of old cars and trucks, are offered for sale at Gleason Fine Art, 31 Townsend Avenue, in downtown Boothbay Harbor. Beers has been with the gallery for more than 20 years and continues to be one of the gallery's most popular and recognizable artists.
Four years ago, Kevin Beers and his wife Amy decided to sell their New York City home and move to midcoast Maine. Home is now a spacious, 19th-century sea captain's house in Thomaston, Maine, from which Beers ranges up and down Maine's coast and islands, painting as he goes.
Of his art, Beers says: "I don't believe in long-winded manifestos. The paintings can speak for themselves more honestly than I ever could. I will say that I only paint things for which I have a strong emotional attraction."
"I'm drawn to plein-air painting. I grew up in the Hudson Valley, an area with a rich history of landscape paintings. I have since expanded my stomping grounds to include Monhegan Island and Maine's midcoast, where artists like Edward Hopper, Robert Henri, Rockwell Kent, and the Wyeths have all painted. I have also always been fascinated by old cars and trucks. I am drawn to the anthropomorphic qualities I find in these faded cast-offs."
Beers' fascination with old cars has led him to Cuba twice, most recently last winter, when he joined a painters' group traveling to the storied island. In Cuba, Beers discovered a multitude of '52 Chevys, all in good working order. Beers painted the brilliantly colored, red, green, and turquoise Chevys against the backdrop of Havana's beautiful but crumbling, baroque buildings and lush vegetation.
Gleason Fine Art is not holding receptions at this time, but the gallery is most definitely open and hanging new shows. All of us are being mindful of the recommended precautions. We invite you to visit the gallery and enjoy Kevin Beers stunning landscapes. Or visit our website at info@gleasonfineart to see all of Kevin's paintings. The gallery's current hours are Tuesday through Saturday, 10 am to 4 pm. Contact the gallery at 207-633-6849 or info@gleasonfineart.com.